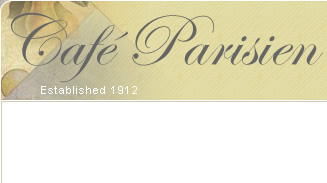 The "Real" Café Parisien
The Café Parisien was one of the luxury innovations aboard R.M.S TItanic of the White Star Line in 1912, and later added to her sister-ship R.M.S. Olympic.
Not a great deal is known about Titanic's Café Parisien, for obvious reasons, but what is known or surmised is the following (sources cited below):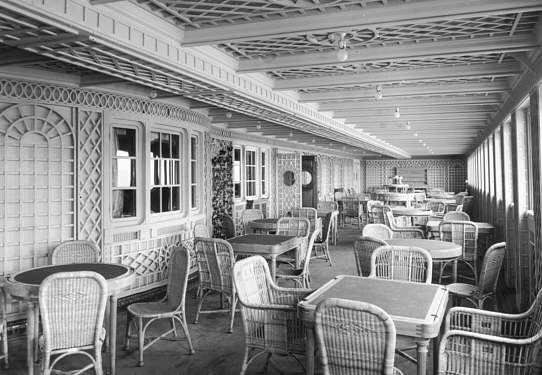 The Café Parisien aboard R.M.S. Titanic, 1912
From The Shipbuilder, 1912
"...a Café Parisien, which is an entirely new feature on board ship, has been arranged in connection with the restaurant, and here lunches and dinners can be served under the same excellent conditions and with all the advantages of the restaurant itself...it will be seen that this café has the appearance of a charming sun-lit verandah, tastefully decorated in French trellis-work with ivy and other creeping plants, and is provided with small groups of chairs surrounding convenient tables."

From rmstitanic.net:
Another new feature on Titanic was the "Café Parisien," which was adjacent to the À la Carte Restaurant. Passengers seated here could choose meals from the À la Carte menu, but in the café large picture windows afforded a view of the sea while dining--something that had never been done on a British ship before. This room also had its own distinctive china.

If the weather cooperated, the windows could be rolled down and passengers could dine al fresco - another Titanic first. On her first and only voyage, the Café Parisien proved to be particularly popular with the younger set traveling in first-class.

From Belfast News Letter, February 26, 1999:
Surviving menu from 1st class Café Parisien "last supper" of the Titanic, featuring cream of barley soup, is set to fetch up to 8,000 £ at a Christie's auction. This only such menu to survive the sinking is believed to have been pocketed by Adolphe Saalfeld, who dove into the sea after donating his life jacket and unexpectedly found room aboard a lifeboat. Upon his return to Engliand, he framed and hung it in his Manchester office. In 1953, it was given away to an accountant as a retirement gift. It is this accountant's son who will profit from his dad's retirement.

Follow-up: Christie's said Richard Mintzer of New York paid $31,300 for a first class passenger menu from the ship's Café Parisien. The menu for first class Titanic passengers in the Café Parisien on April 14, the night the ship struck an iceberg, included oysters, salmon, roast duckling, sirloin of beef, pate de foie gras, peaches in Chartreuse jelly and chocolate and vanilla eclairs.

Café Paris -ien? -ian? -ienne?
You've probably come across this already -- just how is "Parisien" spelled, anyway? There is certainly some confusion on the subject. A copy of the 1912 publication "The Shipbuilder" that reviewed the new features of Titanic used the "-ien" spelling. In the book "Titanic, An Illustrated History," Don Lynch also used the "-ien" spelling, as did Walter Lord's unforgettable 1955 book "A Night to Remember." Noted Titanic historians Eaton & Hass refer to the "Café Parisienne." And then, in an unusual source to be sure, we have the recorded personal effects of Luigi Gatti, manager of Titanic's À la Carte Restaurant and Café, whose body was recovered at sea in the weeks following the sinking: among them, a key to the "entrance to Cafe Parisian."
What to make of all this? In a deck plan of Titanic's sister-ship, Olympic, the White Star Line, who ought to know, printed the following: Cafe Parisien.